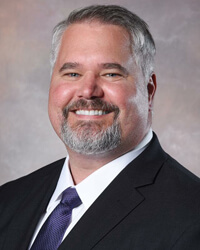 Foot Doctor, Podiatrist
Jesse T. Murphy,
DPM, FACFAS, FACPM
Dr. Murphy is a double board certified Podiatrist who has extensive training and experience providing care for a broad range of foot and ankle conditions in the pediatric through geriatric populations.
Before becoming a Podiatrist, he served in the Navy on a submarine and as a Corpsman with the Marine Corps. He has worked in many different fields of medicine since 1995 and was an EMT. He has practiced in Northwest Indiana since 2014.
He received academic honors and scholarships while attending Scholl College of Podiatric Medicine.
Dr. Murphy completed his surgical training in foot, ankle, and rearfoot reconstruction at Loyola University and Hines VA hospitals. His experience includes providing therapeutic and surgical care in all aspects of podiatry, ranging from pediatrics to complex foot and ankle deformities. His special interests include diabetic limb salvage and trauma.
He enjoys mentoring students and training residents. He was a speaker at scientific conferences and researched biomechanics of the lower extremity. His secondary languages are Spanish and German.
His motto is, "If your feet aren't happy, you're not happy." Dr. Murphy believes in providing the highest quality of care possible, exhausting all conservative treatments before performing surgery.
Dr. Murphy is originally from Wisconsin, grew up in Park Forest, Illinois, and now resides in Crown Point. When he is not taking care of his patients, Dr. Murphy enjoys spending time with his wife Sharon and their son. He is a scuba diver, an avid outdoorsman, enjoys football and golf, is active in church organizations, and plays the bagpipes. He is an Eagle Scout and a member of the American Legion and Veterans of Foreign Wars.
In addition to being a thorough clinician and skilled surgeon, Dr. Murphy's patients frequently comment on his kind and caring bedside manner.
Dr. Murphy is available to see patients at our Merrillville, Portage, and Schererville offices.