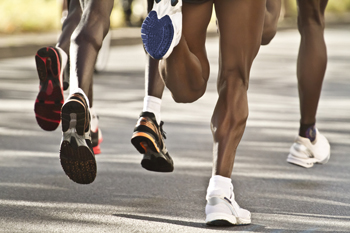 Runners can sometimes experience different types of foot pain after a run. Pain experienced in the heel or arch—especially in the morning—may be plantar fasciitis. Certain stretches and orthotics may provide some relief, however, if pain persists for more than a couple of weeks, a podiatrist may be able to heal the injury using a variety of therapies. Short-term relief from a bunion may be achieved by using bunion pads. A more lasting solution would be to have the bunion removed by a podiatrist who may also create custom orthotics to avoid bunions from returning. On the top of the foot, pain while running, swelling, or a bump on the tendon may be an indication of extensor tendonitis. Shoes that are too tight, or that create pressure on the top of the foot or are laced too tightly may make this situation worse. Proper stretching, icing, and anti-inflammatories may provide relief, along with professional treatments and custom orthotics. Pain relief from tendonitis along the side of the foot may be lessened by icing and resting, however since stress fractures also cause pain in this area, early detection and professional treatment by a podiatrist is suggested for proper diagnosis and treatment.
Exercising your feet regularly with the proper foot wear is a great way to prevent injuries and build strength. If you have any concerns about your feet, contact one of our podiatrists from Centers for Foot & Ankle Care. Our doctors can provide the care you need to keep you pain-free and on your feet.
Exercise for Your Feet
Exercise for your feet can help you gain strength, mobility and flexibility in your feet. They say that strengthening your feet can be just as rewarding as strengthening another part of the body. Your feet are very important, and we often forget about them in our daily tasks. But it is because of our feet that are we able to get going and do what we need to. For those of us fortunate enough to not have any foot problems, it is an important gesture to take care of them to ensure good health in the long run.

Some foot health exercises can include ankle pumps, tip-toeing, toe rises, lifting off the floor doing reps and sets, and flexing the toes. It is best to speak with Our doctors to determine an appropriate regimen for your needs. Everyone's needs and bodies are different, and the activities required to maintain strength in the feet vary from individual to individual. 
Once you get into a routine of doing regular exercise, you may notice a difference in your feet and how strong they may become.
If you have any questions please feel free to contact one of our offices located in Merrillville, Portage, Michigan City, La Porte, and Schererville, IN . We offer the newest diagnostic and treatment technologies for all your foot and ankle needs.
Read more about Exercise for Your Feet